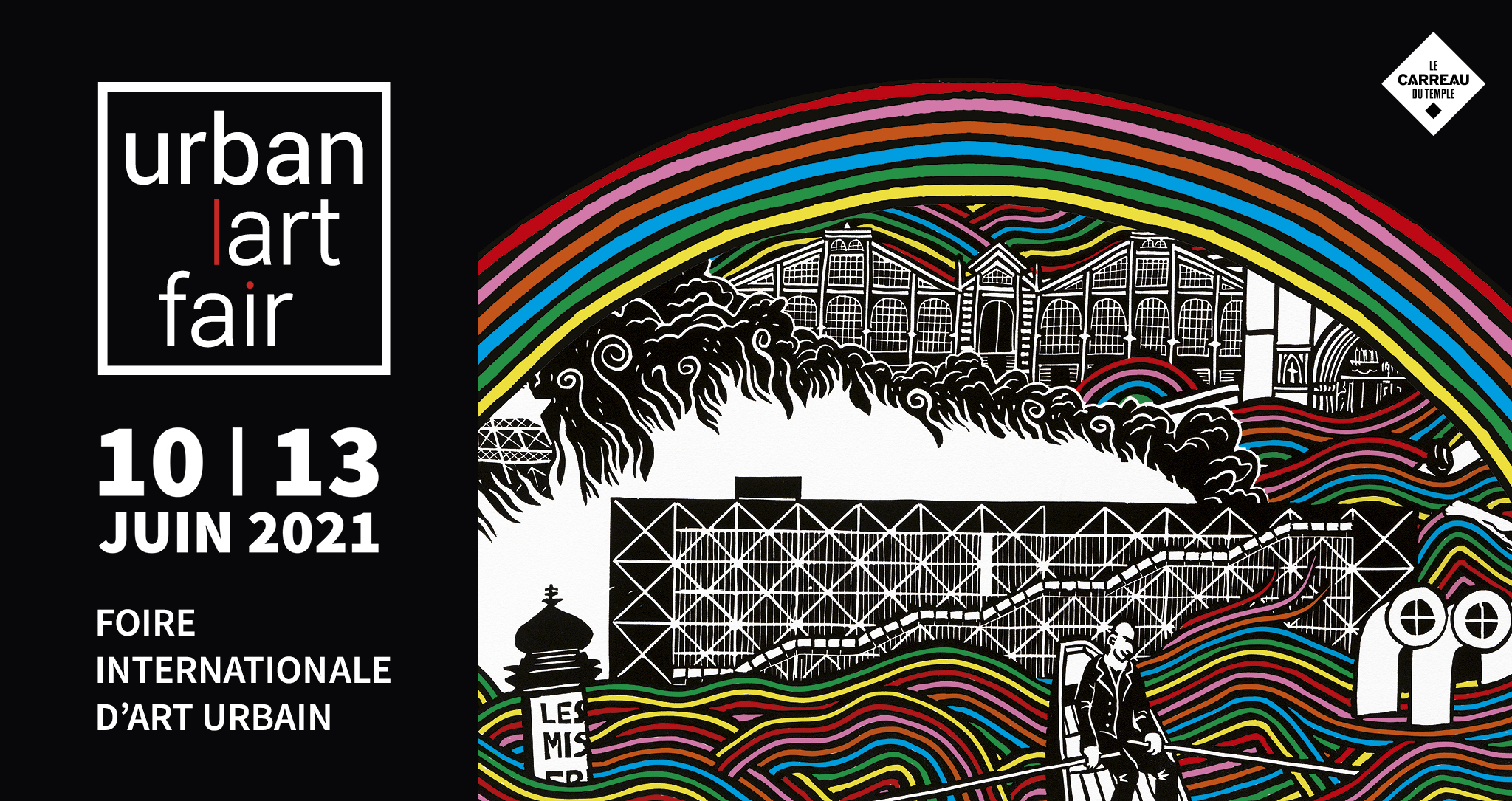 Urban Art Fair is the first international fair dedicated to urban art, created in 2016 by Yannick Boesso, president and founder. Since 6 years, it has been held in the hall of the Carreau du Temple, in the heart of Paris.
Each year, Urban Art Fair brings together some thirty French and international galleries to showcase the work of over 200 artists. Collectors, professionals and amateurs meet every year in April (not always, because of Covid…) to discover both emerging and established artists.
History of the international Urban Art Fair
April 2016. Nearly 20,000 visitors came to the first edition of theUrban Art Fair, with a sales volume of over 1.2 million euros.
From this first edition, Urban Art Fairseeks to emphasize therichness of urban art. The program includes off-site exhibitions, live performances, artist signings on all media, lecture series bringing together street artists and internationally renowned speakers, and short film screenings.
Urban Art Fair is an established fair that owes its success to its demanding artistic programme, which can be discovered in a convivial setting. It is the unmissable event dedicated to the urban art market.
5th edition of Urban Art Fair in Paris
The 5th edition of the Urban Art Fair will be held atCarreau du Temple from Thursday 10 to Sunday 13 June 2021. A panorama of the different trends, the event is aimed at both neophytes and enthusiasts. Always punctuated by installations, encounters and performances, the fair will again this year expand its live program .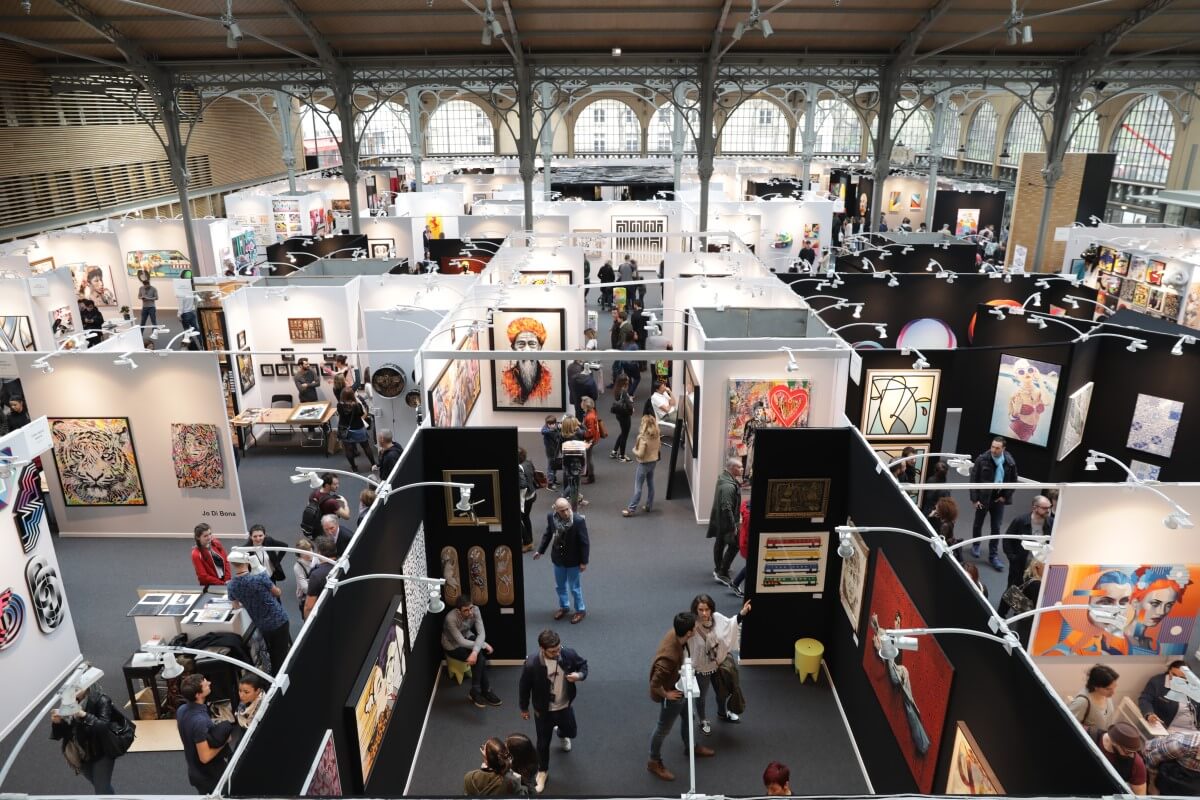 More than 200 artists selected by 42 exhibitors, a third of whom come from abroad, provide a wide range of artistic expression in the public space. Street art, including graffiti, stencils, mosaics, stickers, ephemeral displays and installations, is one of the rare forms of creation visible to all, created for all.
Urban Art Fair is an established fair that owes its success to its demanding artistic program, which aims to show urban art in all its forms. Each year, new galleries are invited to present works that are both historical, from the first generation of South Bronx graffiti artists, and totally contemporary, demonstrating each time the richness of the evolution of styles, techniques and viewpoints. Urban Art Fair is the cultural event of the spring in Paris.
Since 2016, the four Parisian editions and the New York edition have respectively welcomed between 16,000 and 20,000 visitors, bringing together an audience of enthusiasts, professionals, collectors and amateurs who came to discover the work of hundreds of artists. At its last edition, Urban Art Fair has introduced several new features with a focus on contemporary art in situ: on the fringe of the event, Urban Art Fair presented off-site installations on the theme of "Nature & Destruction, Man as a Social Animal", in order to leave a permanent mark on the city.
Preview/Professional day (by invitation): Thursday 10 June 2021 from 11am to 6pm
Opening (by invitation): Thursday 10 June 2021 from 6 to 10 pm
Public opening
Friday 11 June 2021: 11 am to 8 pm
Saturday 12 June 2021: 11 am to 8 pm
Sunday 13 june 2021 : 11 am to 19 pm
Galleries in attendance
193 Gallery (Paris), ArtCan Gallery (Marseille, Paris), Art Dealers (Paris), ART FIVE Gallery (Marseille), Artistik Rezo (Paris), ArtStübli (Bâle), Art Together (Lille), Bel Air Fine Art (London, Paris, Saint-Tropez, Cannes, Venise, Crans-Montana, Verbier, Gstaad, Knokke et Miami), CTrLD by Hopare (Paris), David Pluskwa Art Contemporain (Marseille), Deodato Arte (Milan, Gstaad, Bruxelles), Ellia Art Gallery (Paris), Galerie Ange Basso (Paris), Galerie At Down (Montpellier), Galerie Brugier-Rigail (Paris, Séoul), Galerie Joël Knafo (Paris), Galerie Mathgoth (Paris), Galerie Openspace (Paris), Galerie Wallworks (Paris), Ground Effect (Paris), H Gallery (Paris), La Galerie 38 (Casablanca), Le Mouvement (Paris), Lezarts Urbains (Paris), Loft du 34 (Paris), Mazel Galerie (Bruxelles), Sato Gallery / Tokyoiite (Paris, Tokyo), The Roger Project (New York, Paris), Urban Spree (Berlin), Vroom & Varossieau (Amsterdam), Wunderkammern Gallery (Milan, Rome), YAM Galerie French Art Collection (Paris).
Featured artists
9ème Concept
Add Fuel
Agathe Verschaffel
Alber
Alexandra Hedison
Alëxone Dizac
Andrea Ravo Mattoni
Ardif
Astro
Aude B
Augustine Kofie
B.AX
Babs
Bansky
Bault
Bebar
Bella Bah
Benjamin Laading
Blek le rat
Bom.K
Bond Truluv
BOUTEILLER
Brok
Brusk
Bust The Drip
C215
Cali
Camilla Falsini
CharlElie Couture
Claude BLO Ricci
Clet
Colorz
Conor Harrington
Cranio
Damien Poulain
Dan Rawlings
Dan Witz
Daniel Arsham
Debza
Doze Green
EGS
El Diablo
ELLE
Erell
Éric Lacan
EvazéSir
EVOL
Excalibur
Fabien Verschaere
Fantatista Utamaro
Fenx
Fidia Falaschetti
Fintan MAGEE
Forgues
Franck Noto – Zest
Futura 2000
Gerard Zlotykamien
Ghizlane Agzenai
Giz
Goddog
Gorgone
Gottfried Salzmann
Grégory Watin
Gris1
Gum
Hendrick Czakainski
Herakut
Honet
Hopare
Hoxxoh
Hugpat
Invader
Ismael Bazri
Jace
Jacques Villeglé
Jaëraymie
Jaune
Jean-Marc Hunt
Jef Aérosol
JonOne
JOSEPH
Julien Raynaud
Kashink
Katre
Katrin Fridriks
Kaws
KEAN
Keith Haring
Kenny Scharf
Kongo
KORALIE
L'Atlas
L'Outsider
Lady. K
Le CyKlop
Le Mouvement
Lek
Lenz
Levalet
Lex
Logan Hicks
Loic Mondé
Lucas Price
Madame
Mademoiselle Maurice
Marko93
Martha Cooper
Martin Whatson
Mauro Maugliani
Meyso
Miaz Brothers
Miss Van
Mist
Mister Pee
Mlle Maurice
Momies
Monde
MonkeyBird
Monsta
Mr Brainwash
Mr Chat
Mr Savethewall
Nasti
Nasty
Nebay
Nick Walker
Nicolas Barrome
Onemizer
Panar (Robin Obitz)
Peter Klasen
Philipp Hugues Bonan
Piotre
Polar
Popay
Quik
Rafael Sliks
Ratur
Réso
Rhys
Richard Hambleton
Rime
Robert Combas
Romain Froquet
Rouge Hartley
Saber
SatOne
Saype
Sébastien Preschoux
Shaka
Shepard Fairey
Sidka
Simon Berger
Skunkdog
Smole
Snik
Soklak
Sozyone
Speedy Graphito
SPYK
Sten
Steph Cop
Stom500
SUPAKITCH
Takeru Amano
Tanc
Théo Lopez
THIRSTY BSTRD
Tilt
Toctoc
Tomek Joralim
Tyrell Winston
Vermibus
Vhils
Victor Ash
Zdey
Zeklo
Zevs
Useful links
Site of the Fair : Urban Art Fair
Instagram of the festival : @urbanartfair
Twitter of the festival : twitter.com/urbanartfair
Facebook of the festival : facebook.com/urbanartfair