Buy now




the best of


street art
80+ international artists
100+ original artworks or posters signed & numbered
Street Art is slowly making a place for itself within contemporary art: urban art is moving from the walls of the streets to those of art galleries.
Founded by street art enthusiasts, Street Art Addict aims to spread urban art and make it accessible to as many people as possible. Our gallery offers a selection of original works and art reproductions printed in limited series and representative of the diversity of this major contemporary artistic movement that is street art.
We work with emerging and internationally renowned artists.
Our website is an online gallery that allows street art lovers to buy original works or quality reproductions, signed by the artists and printed by us.
---
New release & gallery's favorites
---
Original works & signed prints by street artists
Street Art Addict is a digital urban art gallery that offers original artworks as well as quality prints, reproductions, posters & numbered & signed posters by more than 80 international and recognized street artists.
The gallery works directly with more than 80 internationally renowned artists, graffiti artists, painters and taggers.
---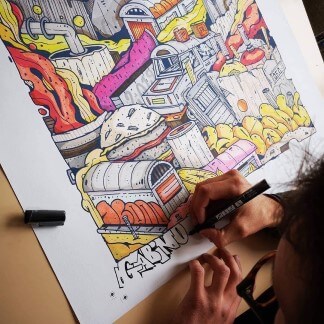 Art prints in high definition. All our series are limited, numbered and signed by the artist.
---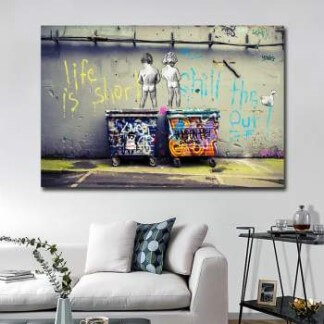 Street Art Addict offers a wide selection of original contemporary street art paintings and works.
---
Featured artist
Michael Beerens

Michaël Beerens was born in 1984.

As far as his art is concerned he combines his two passions: graffiti and underwater world. As a diver and underwater videographer, he developed a particular sensitivity to the ecological cause and the world of animals.

Filled with the energy of nature, he transposes the magic of the underwater world to the heart of cities. He wants to bring the grace of nature into the heart of gloomy concrete.

In March 2021, the official presentation of his gigantic mural in the port of Toulon took place. This immense fresco dedicated to the sea, which today dominates the port of Toulon, was inspired by a dive by the artist in the Anse Méjean, a well-known place on the Toulon coast. Michael Beerens explains that his work echoes the interaction between light and the water motif that is particular to this Mediterranean site.

In July 2021 Michael Beerens took part in the fifth edition of Urban Painting Around The World. The UPAW is a well-known annual event on a theme related to environmental protection. Combining street-art and environmental causes, the ultimate objective of this event is to raise funds which will then be donated to the Prince Albert II of Monaco Foundation, located on the Esplanade des Pêcheurs.
---
Street art news & events