Street art
Multifaceted artistic movement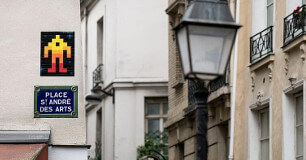 Street art is art, developed in a multitude of forms, in public places or on the street.The term encompasses the practice of graffiti, stencil graffiti, video projection, poster creation, pastel painting on streets and pavements. The term "street art" is usually used to distinguish an art form from an act of vandalism carried out by an individual or a group of individuals who are defending their territory, expressing through graffiti their belonging to a group or wishing to convey a message that has no artistic value.
The subversive value of street art is very powerful and the motivations that drive artists to display their art in the street are very varied. Sometimes out of activism, sometimes to express dissatisfaction with a social phenomenon or simply to convey a powerful message, "street art" is a kind of free forum for contemporary artists. It is a very powerful communication medium that targets a wide audience since it is easily accessible and visible.
The techniques used are varied and of varying proportions. Although graffiti has been seen in recent decades, following wars or popular uprisings for example, the movement took on its true meaning in the late 1970s in Europe. Initially, "street art" included graffiti artists in particular and was associated with the "punk" culture. These artists mainly used aerosol paint. However, little by little, various more elaborate techniques were added to street art. To date, we can mainly observe the use of aerosol, airbrush, but also stencils, stickers, mosaics composed of small tiles and video projections.
Pastels and oil paintings are also often used as techniques in "street art" The difference with the latter lies in the fact that the painting must, for example, be exhibited in a public place, without necessarily having obtained prior authorization and carried out in the most subversive way possible.
Street art" remains a label often used by artists who refuse to blend in with the masseswho want to detonate by displaying their political visions, what hurts them, what disgusts them or makes them react, without however being associated with a particular art form, movement, group. Street artists are those refractory people who wish to perform without authorization, without prior consent, without taboos and without limits. Street art can be seen all over the world, as it has no borders, no gender, no established boundaries. This is what makes its great originality and its growing popularity.
History of street art
From the street…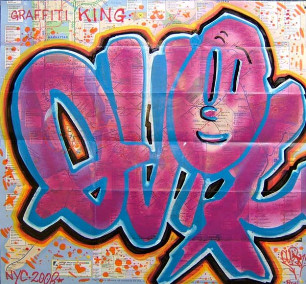 Far from being a novelty in history, modern graffiti marks the beginning of urban art. It was born in the 1960s in the United States, in the city of Philadelphia. Darryl McCray, better known by his tag name Cornbread, a local resident begins writing his name on the walls of the city to catch the eye of the one he loves: "Cornbread Loves Cynthia". He is widely regarded as the world's first modern graffiti artist. It was later imitated by many other city dwellers. At the end of the 1960s, the practice spread and reached New York, in a context of densification of urban transport and concrete cities, the emergence of suburbs and the omnipresence of advertising.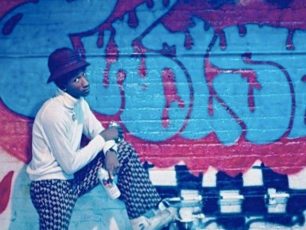 At the same time, the marketing of paint cans also encourages the spread of the practice. The first steps of street art are thus part of a vandal spirit. Among the most famous graffiti artists of the time were Quik, Futura 2000, Phase 2, Taki 183 and Stay High 149.
The graffiti can itself cover several forms, such as the tag (signature) or the fresco, a large-scale work where decorations and motifs are added to the lettering.Little by little, street art is spreading all over the world, and new urban modes of expression are appearing, such as the stencil or the sticker. Each painter imposes himself with a trademark, which we recognize through the signature or the style of graffiti for the seasoned … Banksy's rat, Invader's mosaics…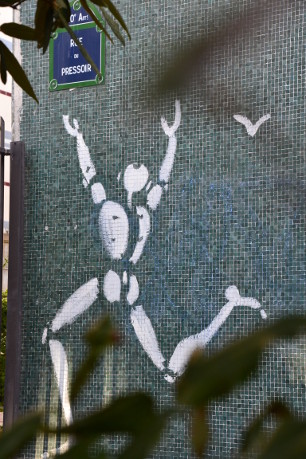 In France, street art made its debut at the dawn of the 70s with Ernest Pignon-Ernest, but only blossomed in the 80s, with artists such as Blek le rat, Speedy Graphito, SP-38, Epsylon Point andJérôme Mesnager. New dynamics appear, and in particular a durability of the works. This can be explained by various factors.
… to the art galleries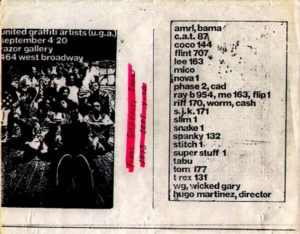 More and more artists wanted to keep their works of art and paint more peacefully, especially as police repression of vandal artists became more severe in the 1980s and 1990s. Urban art also aroused the interest of gallery owners, with the first exhibition of a graffiti artist's work taking place in New York in 1972, at Razor Gallery in SoHo under the initiative of Hugo Martinez who had created the UGA : United Graffiti Artists with notably Phase2, Snake and Stitch1. This move out the street into the art market questions the very essence of the movement and divides artists, many fearing institutionalization.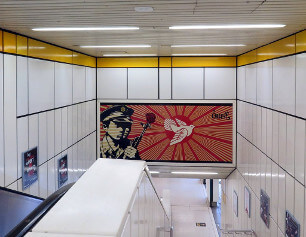 Today, many artists combine street and studio works exhibited in the largest contemporary art galleries. The street thus becomes a springboard for recognition. The most popular street artists on the art market often continue their practice on the street in a legal way, on authorized spaces. The biggest names of today's street art use this medium: JonOne, Shepard Fairey, Jef Aérosol, Monsieur Chat, Levalet or Miss. Tic.
---
Want to buy street art?
New release & gallery's favorites
---
For more information…
From Basquiat to Banksy, once upon a time there was street art
And finally a short video on the origins of urban art in France. Thanks Arte TV.
What do French artists Blek Le Rat and VLP (Vive La Peinture) have in common? Miss. Tic, their American contemporaries Jean-Michel Basquiat or Keith Haring, and their distant successors such as the Englishman Banksy, now world-renowned? A small inventory is necessary in order to better understand the evolution of a major artistic movement for more than three decades.
What can artificial intelligence tell us about street art?
We asked the artificial intelligence ChatGPT to write an article about street art. Read it here.