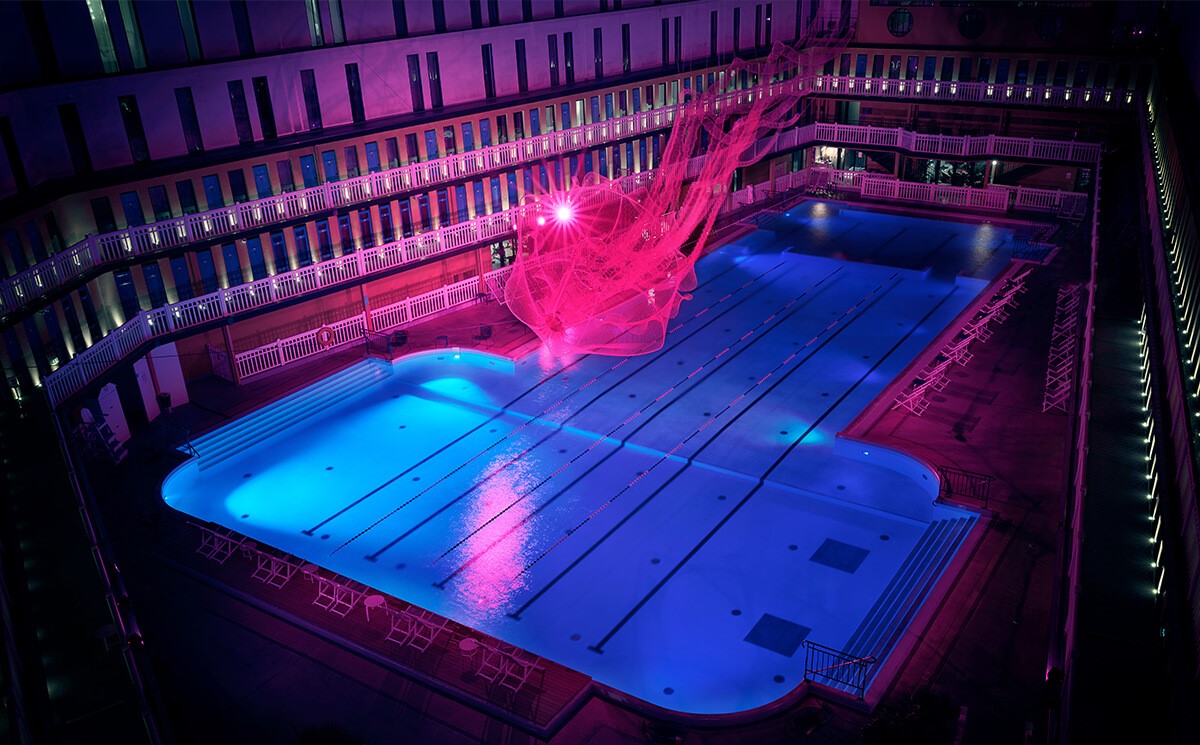 Every winter the outdoor pool of Hotel Molitor Parishosts an artistic installation.
This year, Retro Graffitism has dressed up the art deco pool with a monumental installation, a 25-metre long fluorescent pink jellyfish produced by the agency We Are So Art Addict | WASAA.
Art in the Molitor pool
In 2018, the German artist duo Quintessenz, consisting of Thomas Granseuer and Tomislav Topic from Hanover and Berlin, created a beautiful artwork entitled The Molitor water lily.
The following year it was the artist Amélie Lengrand who installed a huge structure above the pool. She uses the shape of the iconic logo with coloured facets diffracting the natural light to recall the stained glass windows of Molitor.
Medousa, the masterpiece of Retro Graffitism
Floating above the swimmers, Medousa's mission is to create an immersive experience. Beyond the dreaminess of the experience, its presence reminds us that in these uncertain times, it can be salutary to let oneself be carried by the natural currents of life. The artist Retro Graffitism having left Paris for Saint-Malo, wants through this representation to bring the spectator to question the concept of "letting go".
As if to keep the link with its natural element, Medousais made of fishing net. Both resistant and light, this material creates a work that is as monumental as it is evanescent, without ever obscuring the pool, regardless of the viewpoint.
Produced with the cultural engineering agency We Are So Art Addict | WASAA, the jellyfish was designed to have the lowest possible environmental impact. The net comes from Brittany, ennobled (tinted) in Ardèche and the aluminium for the structure comes from Ile de France. Most of the components of this installation come from France.
The artist Retrochose a fluorescent pink colour to colour several hundred square metres of net. This shade fits in perfectly with the hotel's setting and its iconic colours of ochre and blue, capturing the viewer's eye with this modern touch in this art deco landmark.
By day, Medousaimpresses. At night, illuminated by transverse spotlights, this jellyfish becomes even larger. Almost unreal and fascinating, it transports the visitor into a completely different universe. Its proportions make it possible to play on the scales of size, reversing the order of things: the human being is thus tiny, a simple spectator transported to the bottom of the ocean.
The Molitor jellyfish in a few figures
25 metres is the length of our jellyfish
6 000 knots for reeling
900 metres of handcrafted piano wire for the tentacles
800 hours of work for production
285 kilos for this invertebrate which is not a cephalopod…
… and a few cephalalgies for Issam Khemir of We Are So Art Addict | WASAA who finished this work just in time for the new year!
On display at the Molitorpool until the end of March.
Retro Graffistism on sale on Street Art Addict.
Learn more on Medousa-art.com.
in the press: