Street Art Fest Grenoble-Alpes is the biggest street art festival in Europe. It is an urban art festival that exists since 2015, in Grenoble and its agglomeration.
The declared objective of this festival is to offer current creations linked to this contemporary artistic movement during several weeks, in the very heart of Grenoble and the cities of its close suburbs.
This art festival usually takes place in June. Its objective is to present "Street Art in all its globality and plurality of disciplines".
History of Street Art Fest Grenoble-Alpes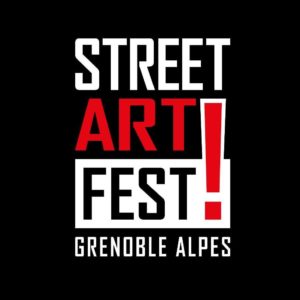 The Street Art Fest Grenoble-Alpes, which was called the Grenoble Street Art Festuntil 2018, was created in 2015 on the initiative of former snowboarder Jérome Catz, founder and director of the network of art centres dedicated to street art, called Spacejunk.
The event is officially supported by the city of Grenoble, Grenoble-Alpes Métropole and the Auvergne-Rhône-Alpes region.
During the festival period, national and international artists express themselves on the front of private and public buildings.
From graffiti to new technologies, this event for the general public has a simple intention: to take stock of current street art and to make the public aware of this rapidly expanding discipline. The Street Art Fest Grenoble-Alpes makes the Metropolis radiate to the whole world thanks to its artistic program and through all its cultural proposals: film festival, monumental frescoes, traditional graffiti, exhibitions, collages, stencils, urban sculptures, installations, photographs, digital street art, street art runs, conferences?
This is a festival where Street Art Addict artists are well represented: Piet Rodriguez, Julieta XLF, Nean, Michaeel Beerens, Graciela Gonçalves Da Silva / Animalitoland, Momies, Vesodand RNSThave already been invited to Street Art Fest.
7th edition of the festival
The 7th edition of the Street Art Fest Grenoble-Alpes will be held from 28 May to 4 July 2021 with several dozen invited artists.
Live créations, movie fest, expos, digital street art
On the programme of Europe's biggest street art festival: a whole month of creations, exhibitions, visits, meetings, conferences, workshops, unveilings, innovations, projections, concerts and other activities…
Among the new features, the festival confirms its metropolitan dimension with the extension of the event to four new municipalities: Eybens, Sassenage, La Tronche and Champ-sur-Drac, which have joined the core of the event represented by the municipalities of Grenoble, Fontaine, Saint-Martin-d'Hères and Le-Pont-de-Claix. This enthusiasm demonstrates the interest of all metropolitans in street art, and the festival's ability to be a part of the Grenoble metropolis.
In order not to forget its core business, cultural mediation and the dissemination of Street Art, the festival is setting up a number of activities to accompany the various creations and to allow the public to follow all the works created within the framework of the Festival: Street Art Tours in different languages, Escape Game by @graaly_escape. but above all, in addition to the visits, the mobile application Street App Fest of Neovisionallows all visitors to consult information on the frescoes by geolocating themselves. "It's like a private guide who provides the keys to reading. It allows people to become autonomous and to democratise art", adds the founder of the street art festival, Jérôme Catz, who is committed to the accessibility of this cultural heritage.
Line up / Guest artists
Some thirty artists have been invited, the majority of whom are French and European, but there are also others from China, the United States and Australia.
Augustine Kofie
Augustine Kofie focuses on the abstract and futuristic representation of geometric shapes. Master of "graffuturism", the universe of @keepdrafting is harmonious, abstract and timeless.
Combo
French street artist, @Combo-CK seeks to touch all audiences and to question the injustices of our society. This Parisian manipulates media or iconic images from pop culture. He radically modifies the meaning in order to challenge taboos, proposing a subversive and committed reading, but never moralising.
Contratak Crew
La Contratakis an association for the promotion of urban cultures made up of painters, video artists, photographers, graphic designers and musicians. It forms a collective with diverse competences and wishes to carry out a positive and open action to the public through the exchange and the mutualisation of the know-how and skills of its actors. The action of the actors of the Contratak is above all artistic and civic, and tends towards participative democracy. Thus the association's activity largely consists of creating and developing spaces for free expression within the Grenoble agglomeration, at the risk of upsetting certain minds that are a little too obtuse, with a lot of colour, music and good humour. La Contratak dreams of being a prism for the expression of the sensitivity of a youth that is well in tune with its time and aware of its ability to develop.
Daco
French artist, Daco asserts a unique and recognizable destructured style. His series of animals, called "Graffaune" (contraction of "graffiti" and "fauna") deploys a strong visual identity: geometric and colourful creatures. Nourished by multiple interests : Russian constructivism, wildstyle, lettering or tags, @dacopaintnow asserts his freedom in his works.
Etien'
A child prodigy from Grenoble, Etien' is a surprising artist. Known for his daring frescoes and impressive anamorphoses, @etien.fr follows his desires and offers us ever more virtuosity, mastering his technique to perfection.
Falco
Falcoenjoys juggling universal images with current events. Through his creations, this young graphic designer satisfies his need to share simple messages that make an impact. @falco.crea likes "art that provokes, that points the finger but also that questions".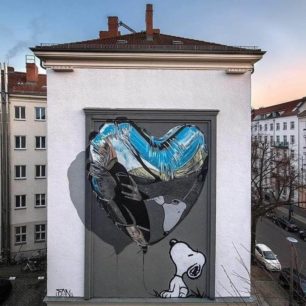 From London, the pioneer of the "Balloon Graff" is coming to Grenoble for this new edition!
@fanakapan is a prolific artist with an immediate and extremely impressive aesthetic dynamic. He has travelled the world leaving 3D balloons and other ultra-realistic 3D murals in every port he has visited. Coming from the world of skateboarding, he works freehand and is known for his lettering which has become his signature.
Find Fanakapan's works for sale on Street Art Addict.
Lula Goce
Originally from Galicia in Spain, @Lula_Goce is a street artist specialising in murals. With her realistic style, she paints huge portraits in dark colours to which she always adds a touch of flowers, thus giving life and colour to her works.
Groek
A graphic designer by training, @groek_andgroel is an eternally curious person in search of experimentation. Like many others, he started out on the street as a graffiti artist. Now he varies the techniques and media according to his desires and discoveries, preferring an artisanal approach, where time is not counted, and where only intuition, spontaneity and experimentation count. His graphic universe is a profusion of coloured and textured forms, where figurative and abstract are mixed with – nevertheless – a solid desire to succeed in making the viewer lose the main subject of his works. Mischievous and talented!
Lil Hill
Li Hillis a Canadian artist who stands out for his mastery and attraction to movement and its decomposition. His works use a combination of images to suggest an illusion similar to the stop-motion method in film. His technique is also marked by an admirable control of the transparency effect. The creativity of @li_hill has led him to work and exhibit all over the world.
HoxxoH
@HoxxoH tries to show us a new approach to observing and appreciating time through his almost hypnotic kaleidoscopic creations. By stopping trying to control time, it shows what happens when you let yourself go in its natural course. He sublimates walls all over the world and draws his inspiration from mandalas to draw spheres between space and time.
Iota
Iotafocuses on the representation of the human soul and its emotions through portraits. Trying as much as possible to abstract a frozen face, @Iota tries to get the viewer to identify with and feel her paintings.
Juin
If the Grenoble scene was a good school for @pf_juin, the city, its architecture, the symmetry or the speed of execution of the gesture remain, for him, as many sources of daily inspiration. Driven by a clear and optimistic vision of his work, Juin sets about the task and has already forged his own identity, a style that is constantly evolving but clearly identifiable.
Leon Keer
@leonkeeris one of the world's leading anamorphic street art artists. He has created pieces on canvas and street art around the world (3D Street Art, 3D Street Painting, Murals). In addition to using optical illusion, he often adds new technologies to his creations, such as augmented reality and video mapping.
M4u
@Mandrake4u, in a permanent questioning, represents a myriad of characters very often unknown to the general public: as a tribute to the treasure of humanity in each of us. His favourite techniques, spray, stencil and collage, allow him to have fun with his bright and colourful compositions.
Sophie Mess
Sophie Mess creates botanically inspired artworks, bringing the colourful beauty of nature into the urban landscape, transforming spaces and inspiring positivity. @sophiemess_ wants to bring the joy of nature to places where it is not expected. Her works can be found all over the world,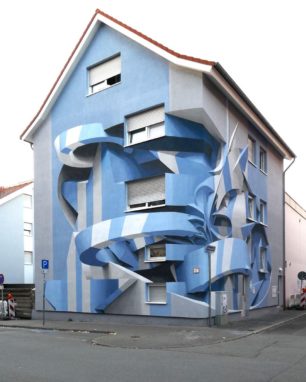 @peeta_ead is an Italian artist famous worldwide for his unique and impressive anamorphic style. Based on the letters of his artist's name stylized in a three-dimensional world, Peeta's works change the perception of a familiar place for the inhabitants and lead to a different understanding of the environment and reality.
Find Peeta's works for sale on Street Art Addict.
Seth
A French artist known throughout the world, Seth enchants the daily lives of thousands of people with his dreamlike and colourful works. Often double-edged, but never cynical, his art is committed and alert to the state of the world. Also famous for his many unusual trips and encounters at the ends of the earth, @seth_globepainter wants to promote urban culture from around the world.
Taquen
A young Spanish artist, Taquenhas developed a very personal style in the course of his experience: continuous lines generating multiple planes, portraits, animals and sometimes colour. Constantly in search of movement and anatomy, the artist @taquen deposits his poetry and sensitivity wherever he can.
Telmo Miel
Founded in 2012, the Dutch duo @telmomiel creates monumental and surrealist frescoes where strange creatures and humans cohabit. Blending the art of photorealism, abstraction and humour, the artists compose their works with a considerable number of superimposed elements to open up a multitude of perspectives and interpretations.
Tramb
Tramb, a "flying artist", is on board with us for this edition: his universe is full of more or less realistic, crazy and often trashy characters. His creativity knows no bounds, and @tontontramb creates both by hand, with a biro or marker, and on the computer, drawing on his personal influences.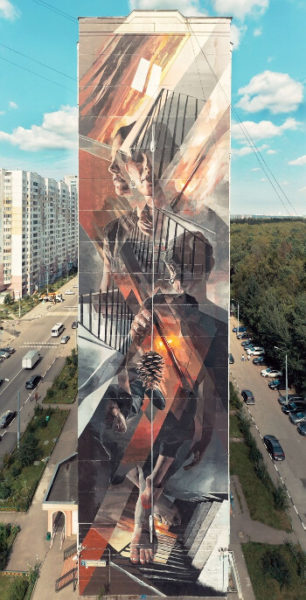 An Italian artist, Vesoddraws on his mathematical studies to create his art: his immense works are imbued with futuristic dynamics and anatomical proportions.@Vesoddevelops a personal language in which he explores immaterial solid forms and revisits the idea of an eternal present.
Find Vesod's works for sale on Street Art Addict.
Full list of upcoming artists
Useful links
Fair website: Street Art Fest – Grenoble
Insta of the fair : @grenoblestreetartfest
Twitter of the fair : twitter.com/GStreetartfest
Facebook of the fair : facebook.com/grenoblestreetartfest