Michaël Beerens
Born in 1984, Michael Beerens is an artist who lives and works in the Paris region. Michael Beerens' work combines his two passions: street art and the aquatic world.
A miltant artist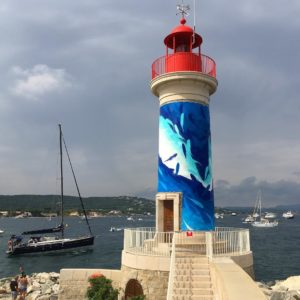 As a teenager, he started to paint in public spaces at the end of the 90s within the Graffiti movement. He is part of this first generation of Parisian writers. During a trip to Turkey, the artist discovered scuba diving. In addition to loving this practice, this new activity will be a source of inspiration for the future works of Michaël Beerens.
As he grew up, he continued to be passionate about these two activities and devoted more and more time to them. At the age of 24, he even became a scuba diver to embark on a career as an underwater videographer.
At the same time, he developed his Graffiti practice and began to paint his drawings in the street. His passion for the underwater world gives him a particular sensitivity for nature and the animal world which become his favourite themes. They are the starting point of his Modern Fables series, where the artist tackles current issues around pollution, environmental destruction, animals in captivity, intensive agriculture… Her work thus takes on a particularly committed tone in favour of the animal cause and ecology.
The ocean in the city
This commitment led the artist to carry out a commission for the COP21 in 2015. The work, painted on the ground, represents a school of fish swirling in a luminous well, a real oxygen bubble in the heart of the city. This will be the starting point for a new project: Deep Light.
This project is inspired by the natural cavities that fascinate the artist and that he encounters during his scuba dives or his practice of speleology, Michael Beerens goes further in his technicality as a painter in order to magnify the interaction between the light and the motif.
With the poetic visions of Deep Light, he strives to remove from the daily gloom of concrete those moments of grace that are unique to Nature. The artist opens up the urban environment to that of the depths, and makes the viewer an element of this "other" world.
He is an artist who is appreciated for his activism and authenticity.
Michael Beerens online : www.michaelbeerens.fr
Michael Beerens on Instagram : @michaelbeerens